Trader Joe's Magnifisauce, a tangy sauce of secret proportions as they say on the bottle, is so delicious on these animal-style fries!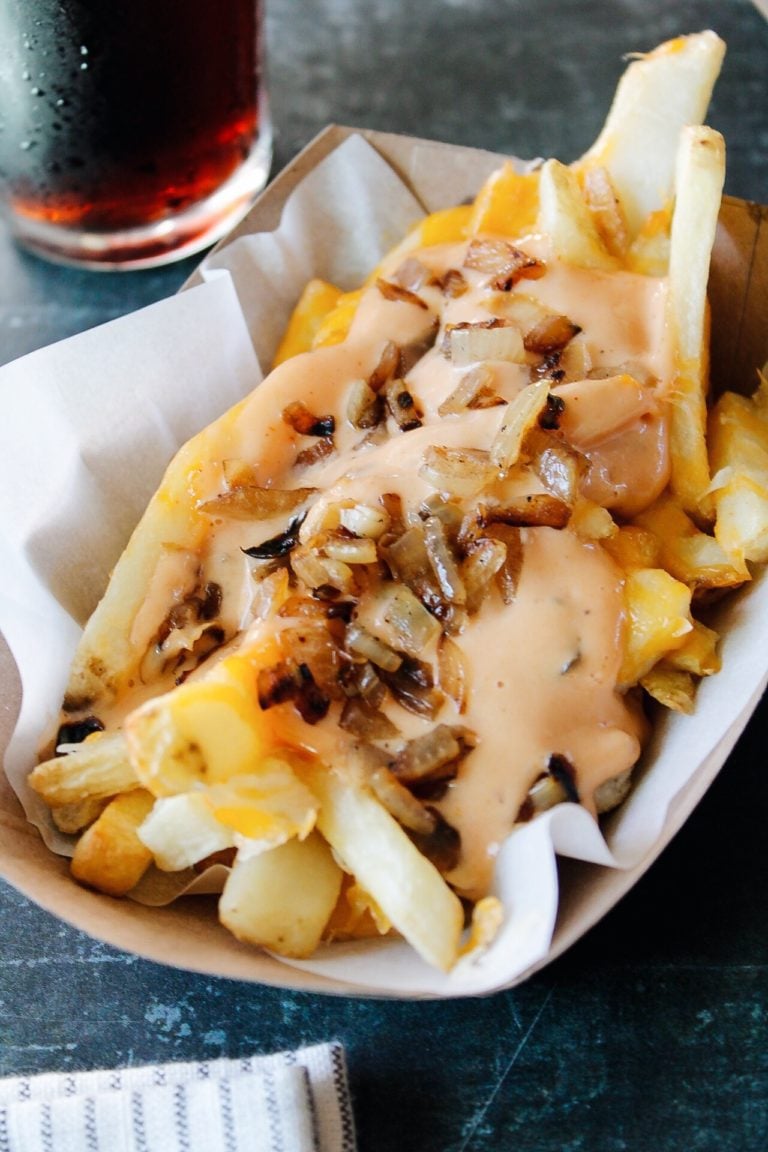 Animal fries are without a doubt one of my top favorite foods. The combination of french fries, melty cheese, grilled onions and a tangy sauce smothered all over them is just a wonder to me. If you're not familiar with Animal Fries, they are one of the best secret menu items from in-n-out, in my humble opinion. But sometimes I really don't want to sit in that drive-thru or leave my house! Making animal fries at home with Magnifisauce is super easy and it probably takes just as long as it does to sit in the drive-thru. And while Magnifisauce doesn't taste exactly like spread from In-n-out this definitely hits the spot for me and takes care of the craving!
Ingredients
Animal fries with Trader Joes Magnifisauce
Frozen french fries
Cheddar or American cheese
Onion
Magnifisauce
Let's talk a little bit about each ingredient.
Magnifisauce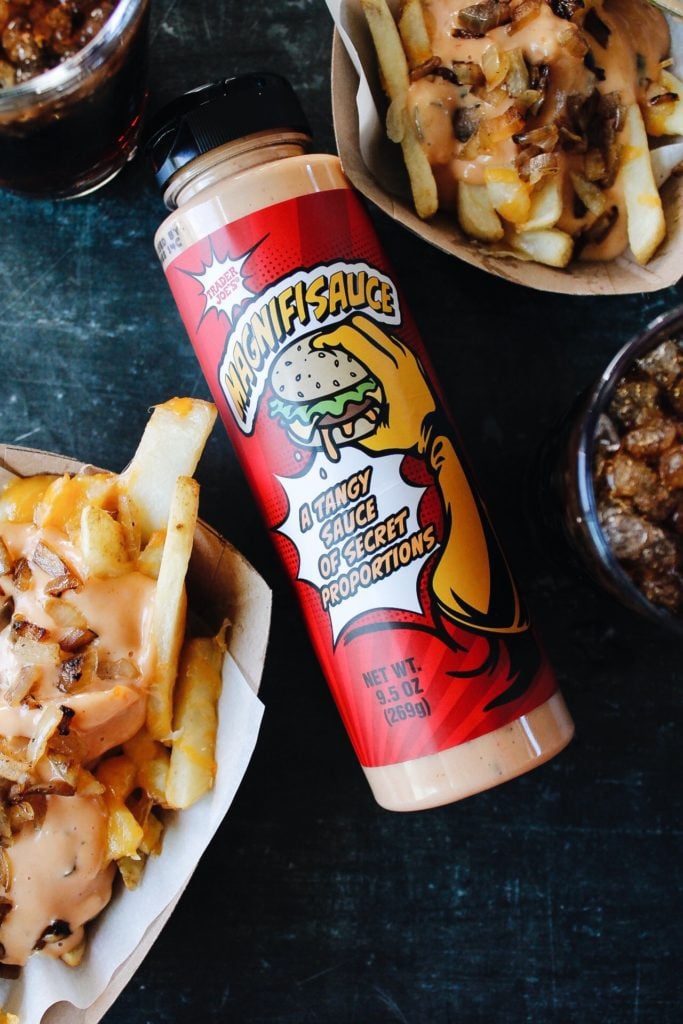 What is magnifisauce?
Magnifisauce lives up to what it says on the bottle – a tangy sauce of secret proportions! It is tangy, somewhat similar to thousand island dressing. As the art work on the bottle also suggests, it's great for burgers and of course – animal fries!
Magnifisauce ingredients
But that still doesn't tell you much about what it is. I was actually happy to see that the ingredients seem pretty clean, just:
canola oil
water
relish
cane sugar
distilled vinegar
tomato paste
egg yolks
sea salt
dried garlic
dried onion
xanthan gum
mustard flour
rosemary extract
ground cloves
paprika
Long list, but nothing I can't pronounce/have never heard of. Works for me!
Does magnifisauce taste like spread from in-n-out?
Honestly I don't think anyone can quite replicate the taste of in-n-outs secret sauce. Growing up in southern california (and still living here) I've eaten A LOT of animal fries and consider myself an expert. I do think that magnifisauce is very tasty though and makes a great, quick substitute for animal fries at home!
Fries
When I'm making animal fries, I like to use Trader Joe's frozen french fries. You definitely don't need to use their fries, but if you're already there buying magnifisauce…. I just wouldn't recommend seasoned fries, other than that, any frozen french fry should work.
Cheese
Even though animal fries from in-n-out have a slice of american cheese melted over the fries, I just use shredded cheddar cheese because that's what I usually have on hand and I don't want to buy american cheese just for when I get an animal fry craving. Feel free to use american if you want to keep it as accurate as possible!
Onion
I use yellow onion, but have also used shallots and I really like both. Just dice up some onions, cook them quick and hot in a non-stick pan with a little oil until slightly brown and you're good to go.
Let's make them!
Start the fries in the oven first (they will take the longest)
While the fries bake, dice the onion and saute until soft and browned.
When the fries are done, add the cheese and pop them back in the oven for 30 seconds to 1 minute.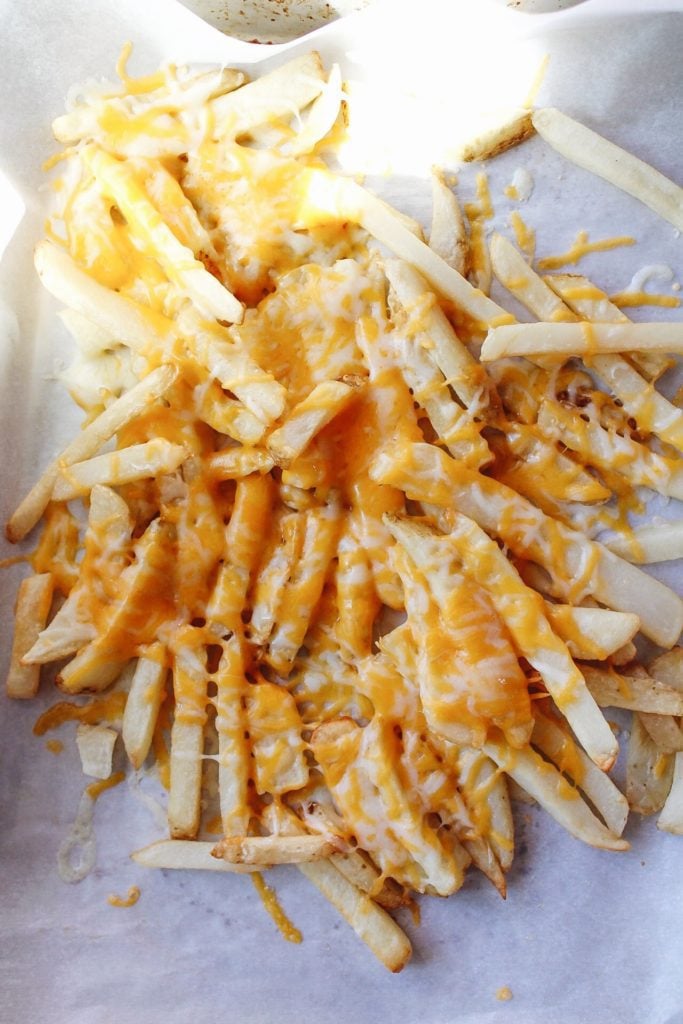 Now all that's left to do is assemble your delicious animal fries!
On goes plenty of magnifisauce over the fries, then a sprinkle of grilled onion and you are ready to take a bite of that cheesy potato saucy magic!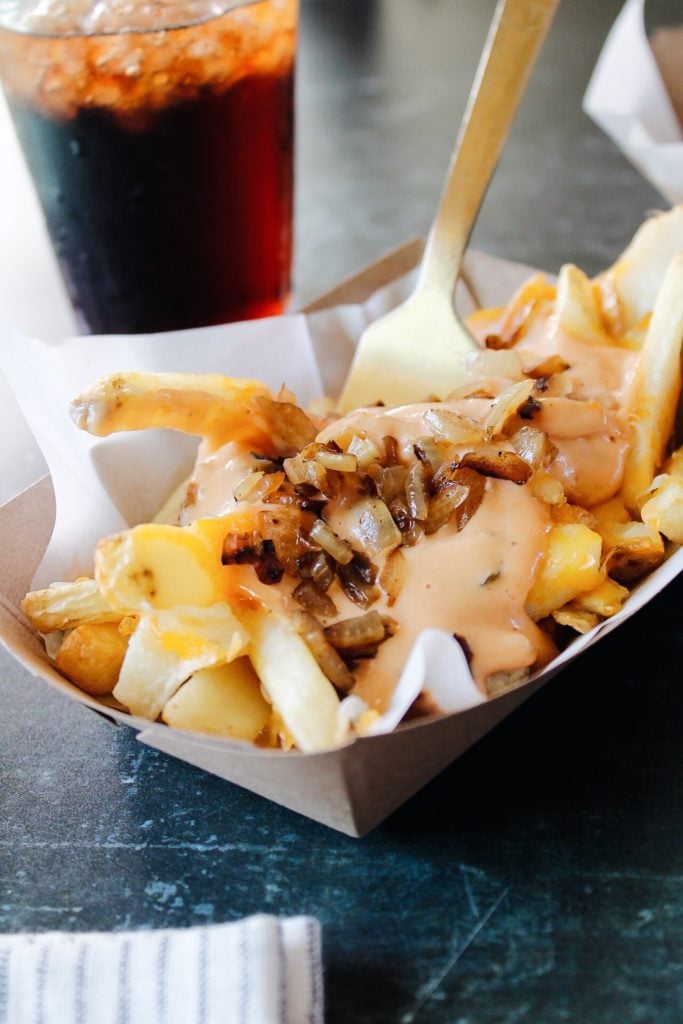 Tried this recipe?
If you try this recipe, please consider leaving a comment/rating below and let me know how it went. I'd love to hear from you! You can also connect with me on instagram and Pinterest.
More potato recipes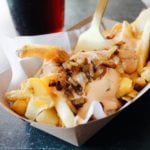 Print Recipe
Animal Fries with Trader Joe's Magnifisauce
Trader Joe's Magnifisauce is the perfect way to get a quick animal fry fix! Cheesy French fries topped with sauce and grilled onions.
Ingredients
frozen french fries

shredded cheddar cheese or american cheese

magnifisauce

yellow onion

diced
Instructions
Place desired amount of french fries on a baking sheet and bake according to package directions.

In a small non-stick pan heat 1/2 tsp oil over medium-high heat and add onions. Cook until they begin to soften and brown. Set aside.

When fries are done, top with cheese and return to the oven for about 1 minute.

Transfer fries to serving dish, top with Magnifisauce and onions.
Notes
I usually use about 1/8 onion per serving.