Easy butternut squash lasagna recipe made with roasted butternut squash, a luscious creamy béchamel sauce and plenty of Parmesan and mozzarella cheese. My family expects this every year at our thanksgiving dinner!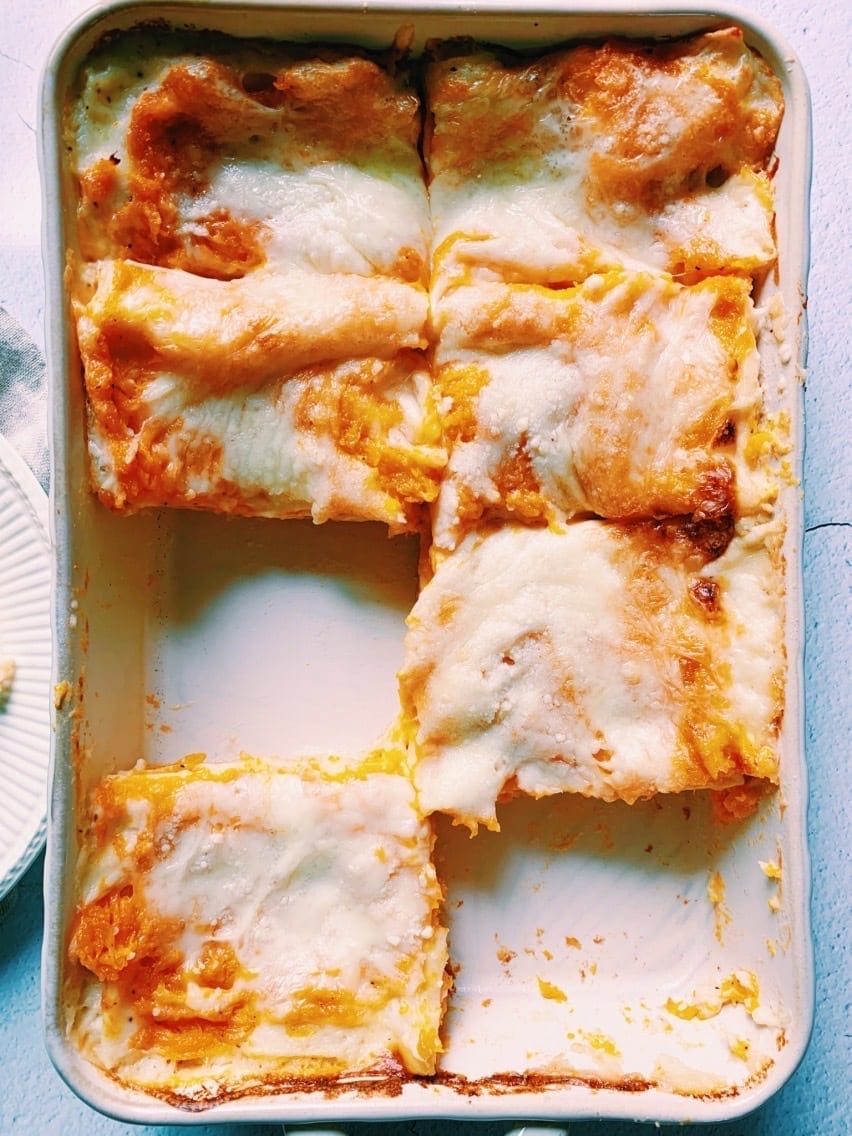 So yes, I think my family would kick me out of our thanksgiving gathering if I didn't bring this butternut squash lasagna. I've been making this for years now and have slowly perfected it over time so you can be confident this recipe will work for you and be delicious.

I absolutely love butternut squash. Give me butternut squash over pumpkin any day. Now pair it with creamy, cheesy béchamel sauce, lasagna pasta, more cheese and bake it till everything is golden and bubbly? Gah it's. so. good.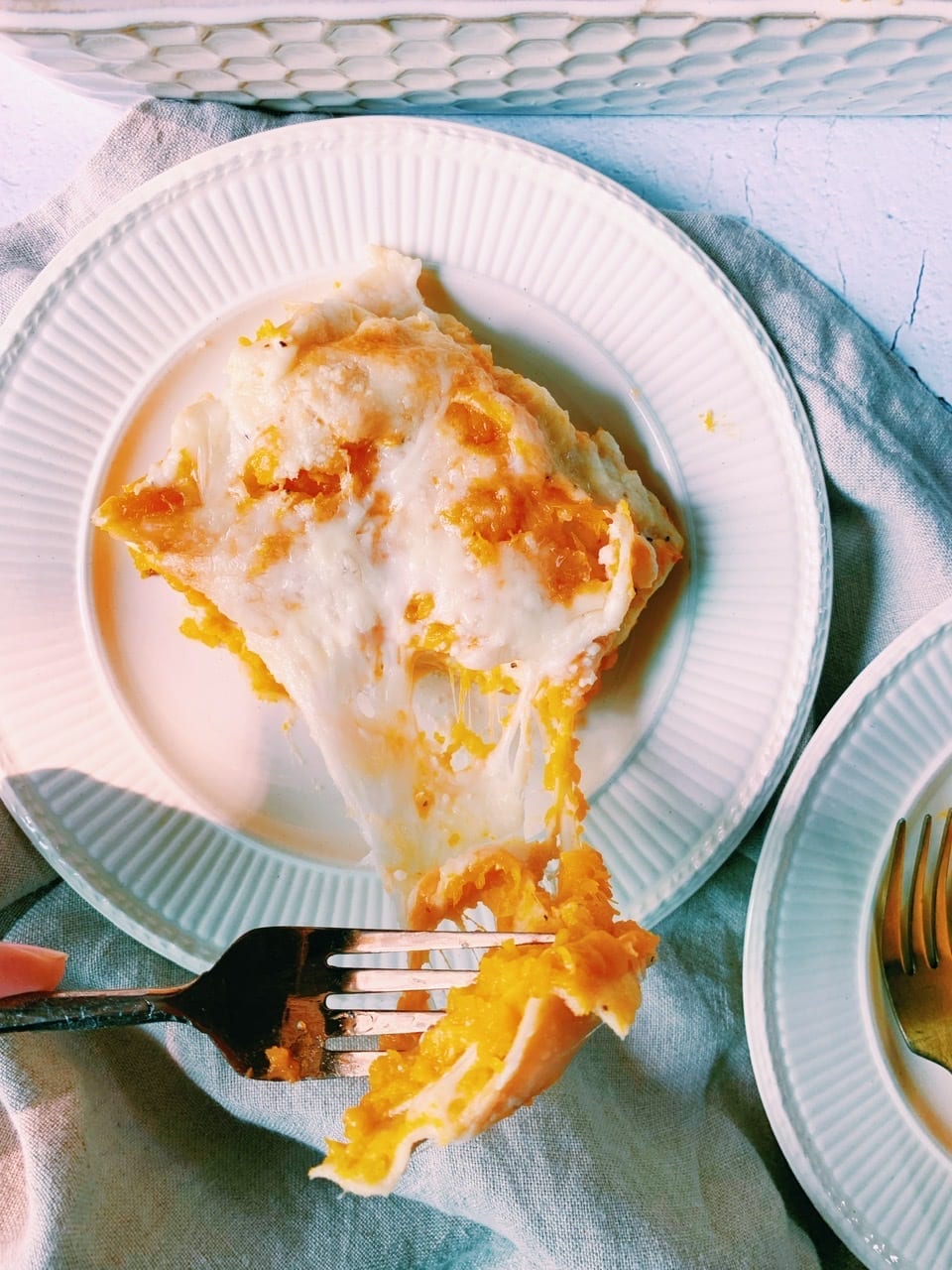 Ingredients for butternut squash lasagna with cream sauce
Butternut squash
No-bake lasagna noodles, you can use the lasagna noodles that you have to boil if you want but if you're trying to save time, just go with the no-bake kind!
Olive oil
Garlic
Mozzarella cheese
Parmesan cheese
Romano cheese
Butter and flour, for the roux that we need to make the cream sauce. If you're not familiar with making a roux—don't be intimidated, it's super easy!
Spices/seasonings: nutmeg, dried basil, dried oregano, salt and pepper
How to tell if butternut squash is ripe
When selecting your squash at the market, look for one with matte, dark beige skin, free of major blemishes with the stem intact. Compare the weights of the squash and select one that feels heavy and sounds hollow when tapped.
Can you use frozen or precut butternut squash in this recipe?
Well you can, but should you is the question? I recommend going with a fresh butternut squash in this recipe because the frozen and precut varieties can sometimes be a little weaker in flavor and you really want the flavor of the squash to shine in this recipe. If you really really don't want to cut up a squash yourself, go with a precut over frozen and get the most vibrantly orange-colored kind you can find.
Making this butternut squash lasagna
I've changed up my method for cooking the butternut squash this year and it's going to stick. A very nice co-worker of my husband made this recipe last year and told him that she just cooked the squash whole instead of cutting it up and cooking it like I used to do. And I was like duh, why don't I just do that?! It's so much easier and I actually like the taste of roasted butternut squash better that when I cook it on the stove using my old method.
How to roast the squash
Cut the butternut into four pieces like so. And be sure to scoop out the seeds!
Lightly coat each piece of squash with olive oil, sprinkle with salt and pepper. Roast for about 40 minutes or until each piece squishes easily and looks like this 😍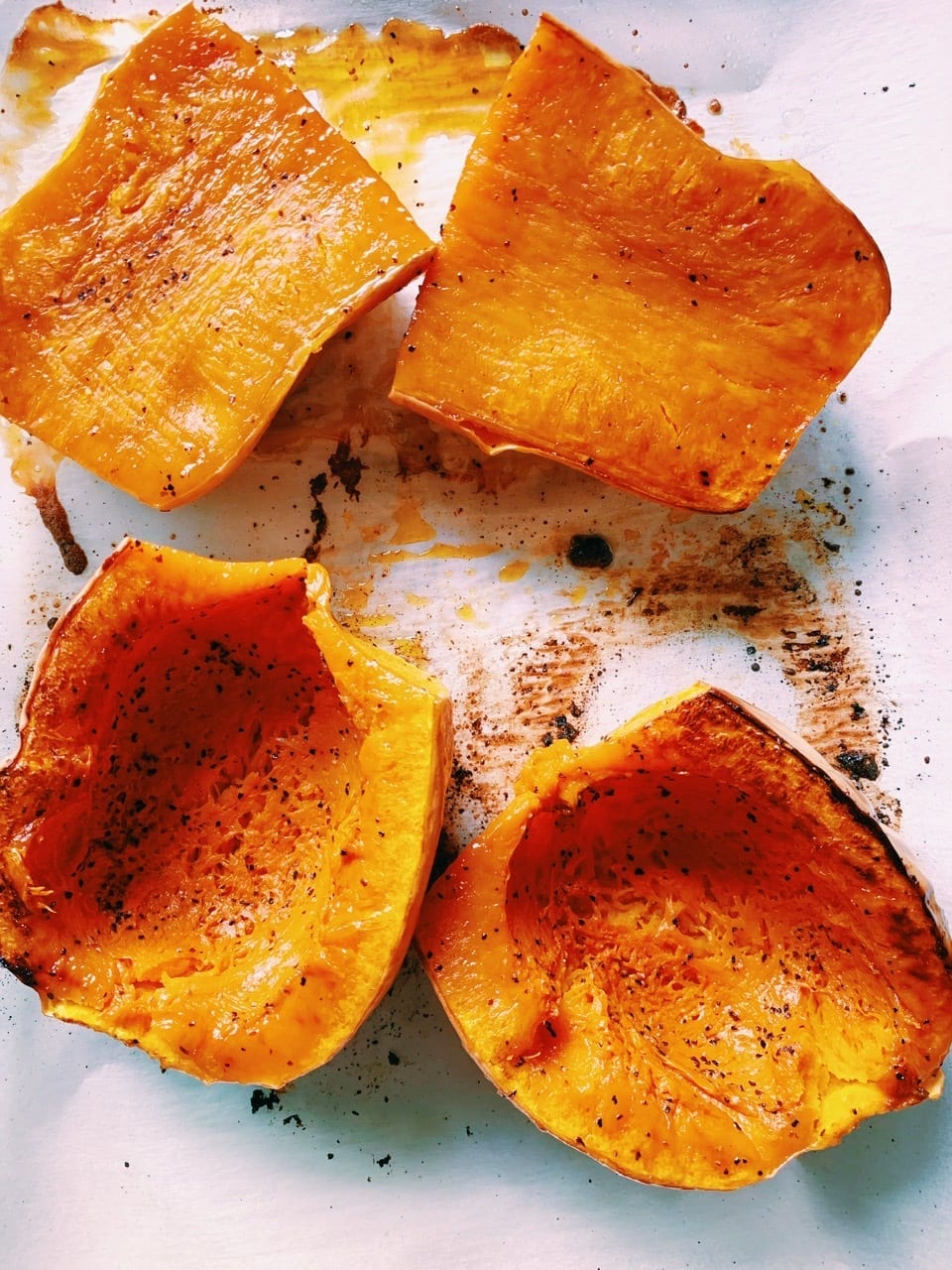 The flesh of the butternut squash will scoop out easily and you can mash it a little so it's easy to scoop and spread in your lasagna layers.
Assembling the lasgana
When you are ready to assemble the lasagna, you will have made the garlic cream sauce, directions are below! Have all of the ingredients handy so it comes together in a snap.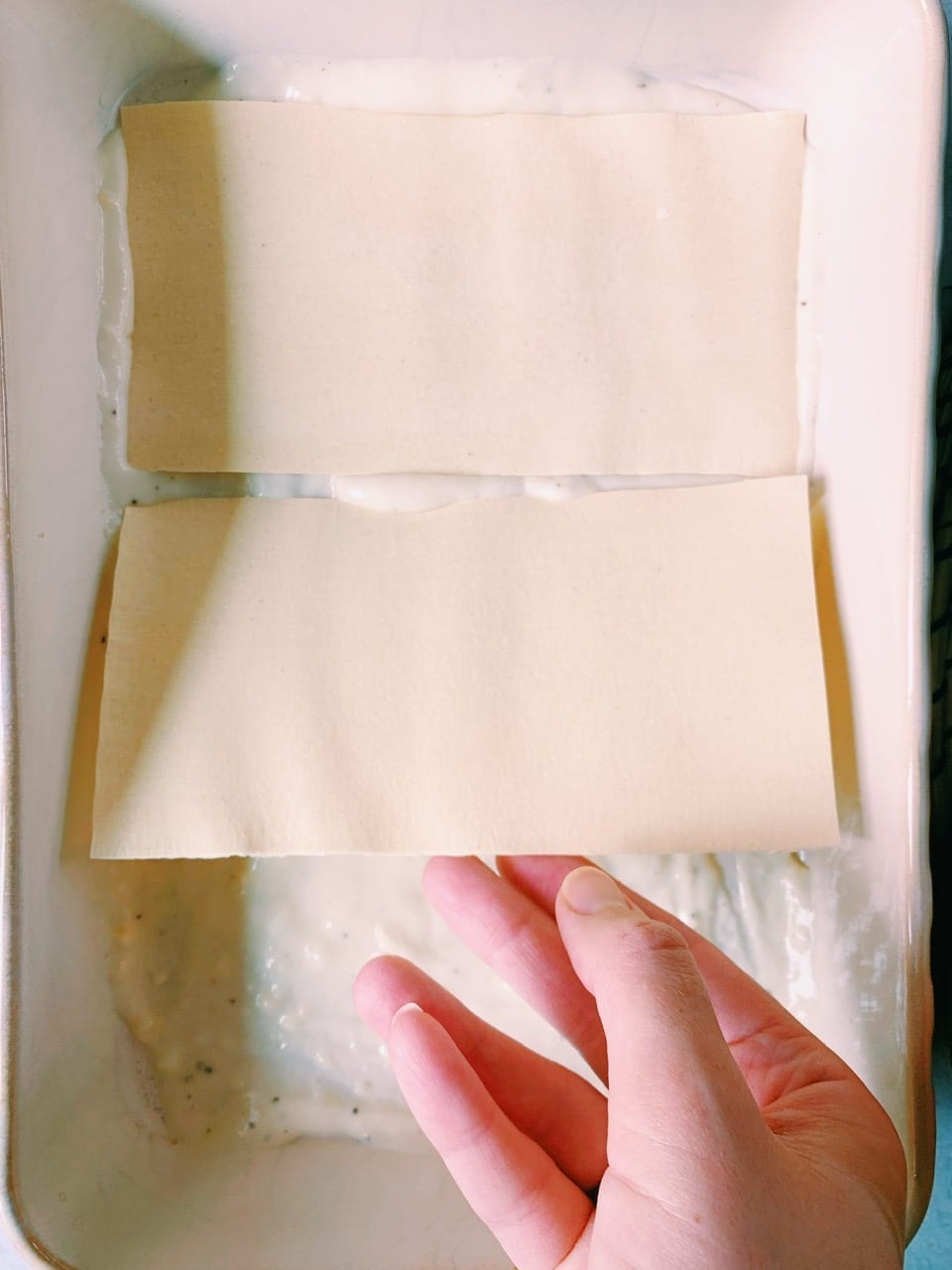 If you make this recipe, let me know! Leave a comment/rating below and tag me on instagram @thefigjar, I'd love to hear from you!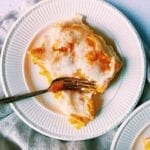 Print Recipe
Easy Butternut Squash Lasagna
Butternut squash paired with creamy cheese sauce, pasta, more cheese and bake it till everything is golden and bubbly.
Ingredients
1

whole

butternut squash

seeded, cut into four pieces

1/4

cup

olive oil

3

cloves

garlic

minced

1/4

cup

unsalted butter

1/4

cup

flour

2 1/2

cups

milk (2% or whole)

pinch of nutmeg

3/4

tsp

pepper

1

tsp

salt

1

cup

grated Parmesan cheese

1/3

cup

grated Romano cheese

3

cups

shredded mozzarella

no bake lasagna noodles
Instructions
Roast the squash. Cut squash in half cross-wise, then cut each half in half again. You will have 4 pieces of squash. Coat each piece with olive oil, sprinkle with salt and pepper. Place face-down on parchment lined baking sheet and roast for 40 minutes at 425 or until tender.

While the squash cooks, make the cream sauce: Add 1/4 cup butter to a medium sauce pan over medium heat. Once melted, add the garlic, cook for 1 minute, then add 1/4 cup of flour. Whisk to combine, let cook 1 minute, stirring constantly. Reduce heat to medium low and slowly whisk in milk. Cook until sauce begins to thicken and gently bubbles. Turn off heat, add nutmeg, 1/2 tsp salt, 1/4 tsp pepper, 1/3 cup parmesan and 1/3 cup romano. Stir to combine. Set aside.

Assemble lasagna: start with a layer of cream sauce, then noodles, then squash (scoop the flesh of the squash out of the skin and press/spread with a fork), add mozzarella and extra Parmesan, then repeat. You should end up with 3 layers, ending with mozzarella.

Bake for 30 minutes at 375 or until cheese is golden and bubbly.