If you are a frequent rotisserie chicken buyer like me and you aren't making chicken stock with the carcass after you've picked it, you are missing out! Homemade chicken stock is so easy to make, is extra delicious and you can control the amount of salt/sodium! Keep scrollin' for a step-by-step guide to making homemade chicken stock.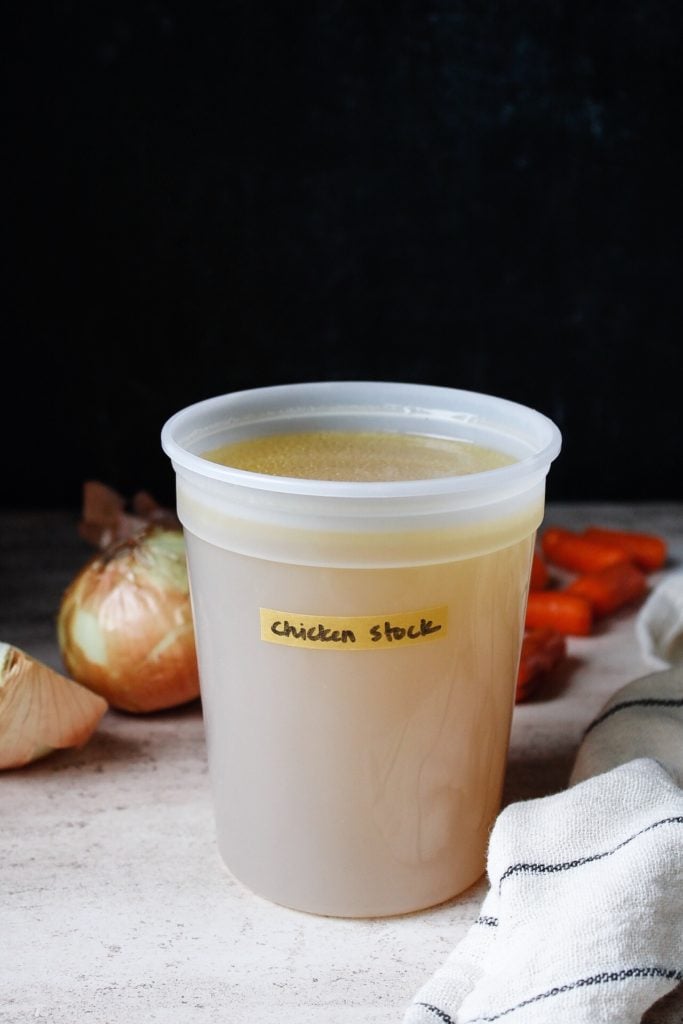 I'm embarrassed to say it but I've only recently started making homemade chicken stock. It takes barely any effort and the results are just delicious. Plus, it's a shame to let all of the chicken bones go to waste! Don't be like the old me any longer— when you buy a store-bought rotisserie chicken or you make a whole chicken yourself (you classy person, you)— make chicken stock with it!
Ingredients for homemade chicken stock
1 carcass of a store-bought rotisserie chicken or homecooked whole chicken
Water
Onion – optional
Carrot – optional
Salt
That's it. I've made stock with just the chicken carcass, water and salt and with all the ingredients listed above. I prefer the flavor of it with the vegetables but if you don't have any to add, don't let that stop you. It's still delicious.
Making chicken stock
All that is standing between you and some delicious homemade chicken stock is a large pot and willing hands.
Place the chicken carcass, veggies (if using) in a large pot and cover with water.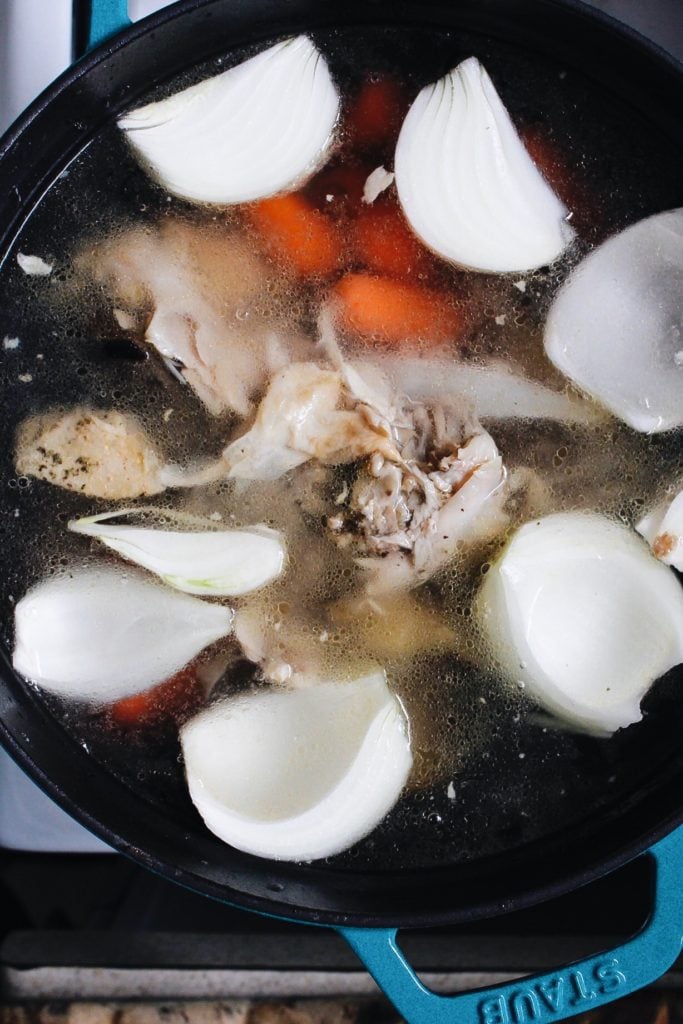 Turn the heat to high to bring to a boil, then reduce heat slightly.
Allow the chicken to boil for about 1 hour.
Around the one hour mark, taste the stock, then add salt by the half-teaspoon until it tastes good to you. I usually end up adding about one teaspoon of salt.
Once it tastes right to you, strain out the veggies and chicken remnants.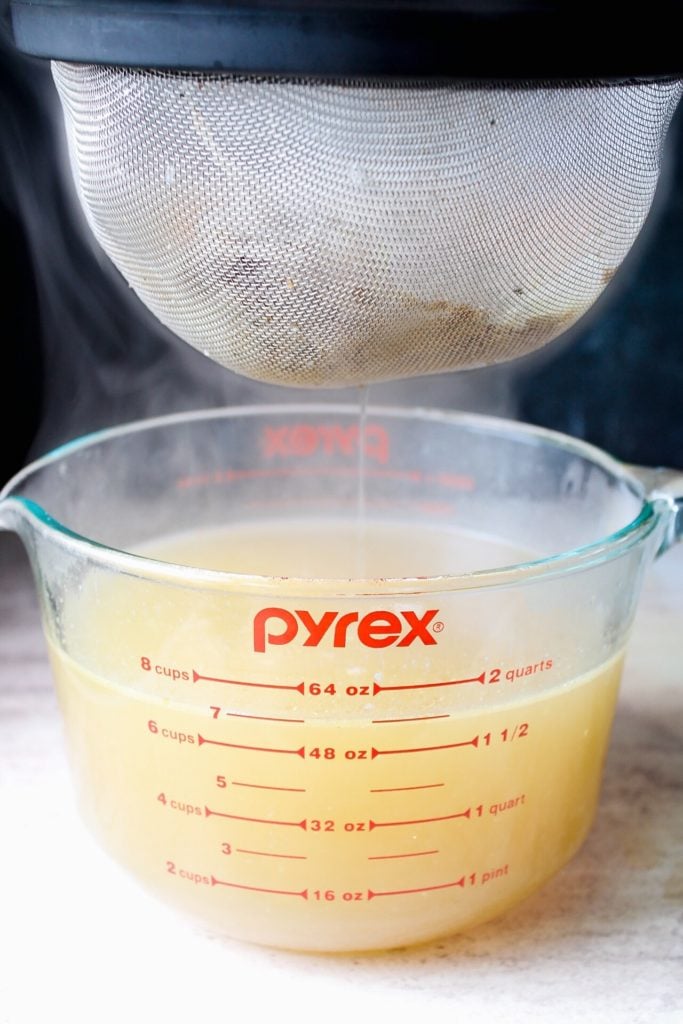 Storing homemade chicken stock
I like to use these plastic containers to store this chicken stock as well as all kinds of other soups. Like my Chicken Tortilla Soup! They are easy to label and stack nicely in the freezer. I like to use solid colored washi tape to label these. It's easy to write on this tape. with a sharpie and removes easily with out any sticky residue.
How long does homemade stock last?
This chicken stock will keep for up to five days in the fridge. I wouldn't use it past that, even if it smells ok. Keep in mind, this is freshly made stock with no preservatives! You can also freeze it— then it should last up to 6 months.
I hope you've been inspired to start making your own chicken stock from scratch! If you try making these, please let me know by leaving a comment and rating below!
Try using your first batch to make this amazing Chicken Tortilla Soup!
Or my favorite Chicken Soup!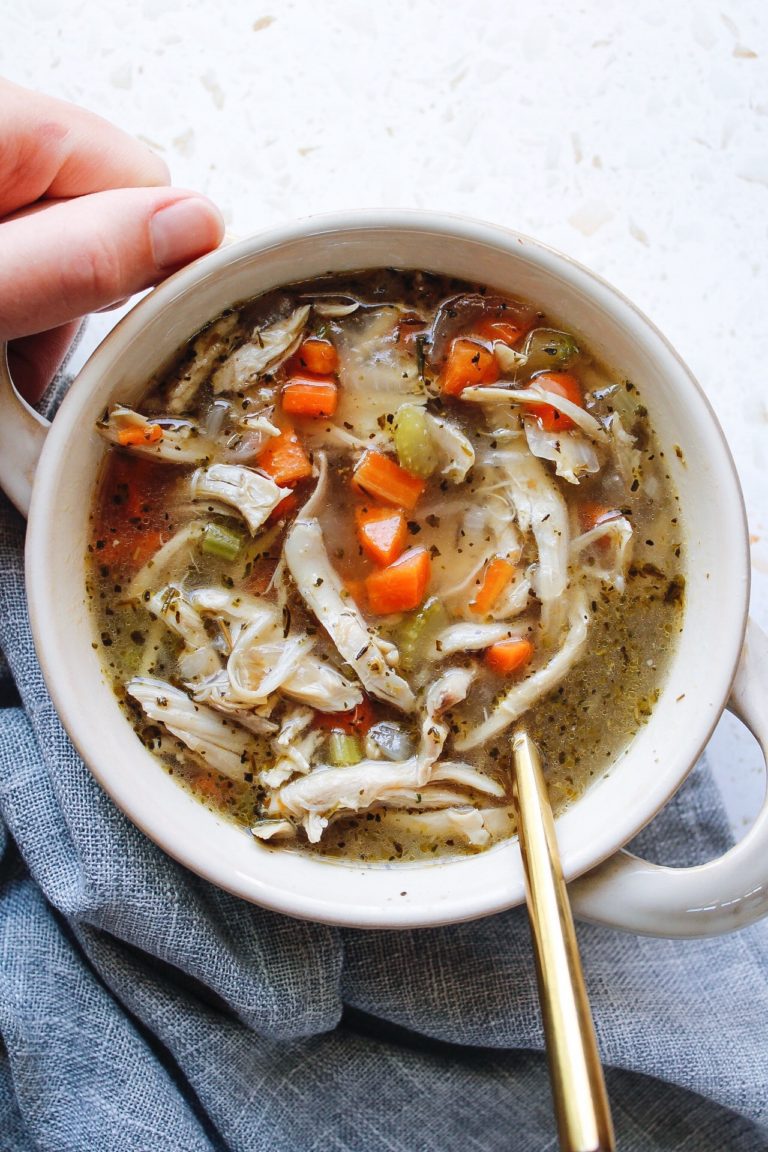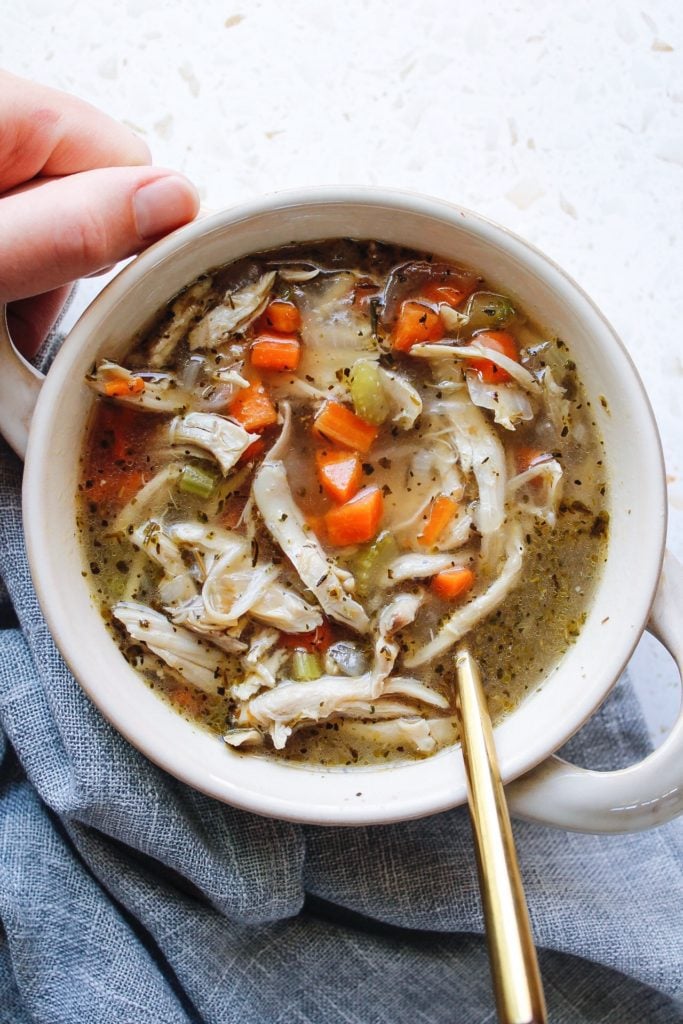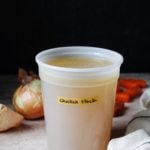 Print Recipe
Homemade Chicken Stock
Delicious homemade chicken stock using a store-bought rotisserie chicken or whole home cooked chicken.
Equipment
Strainer

Large pot

Plastic containers
Ingredients
1

whole rotisserie chicken carcass

1

onion

quartered

1

cup

baby carrots

8

cups

water

salt to taste
Instructions
Place all ingredients in a large pot and bring to a boil. Reduce heat slightly to a gentle boil. Allow to boil for 45 min.

Add salt by the 1/2 teaspoon until desired flavor is reached. Use a strainer/sieve to remove chicken remanants and veggies.

Store stock in a container in the fridge for up to 5 days, 5-6 months in the freezer. This should yield about 2 quarts of stock.