Classic buttery shortbread cookies with a strawberry twist! These strawberry shortbread cookies are made using a classic shortbread cookie recipe with the addition of freeze-dried strawberries.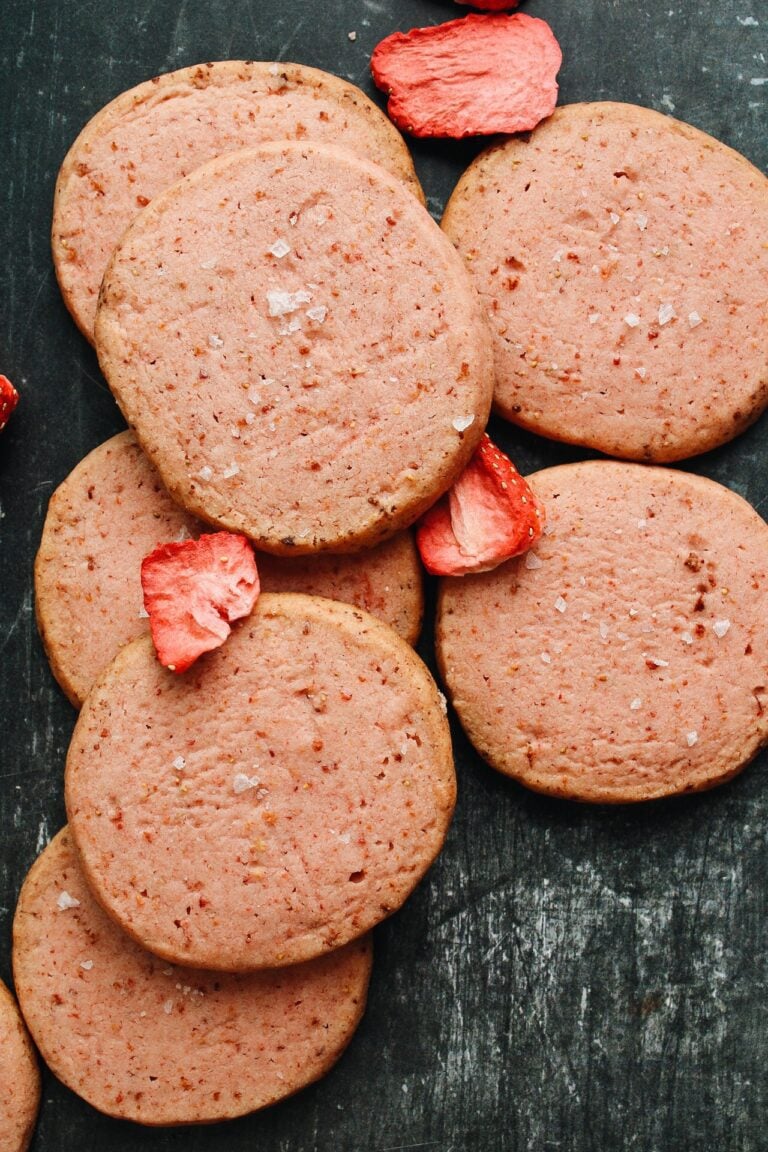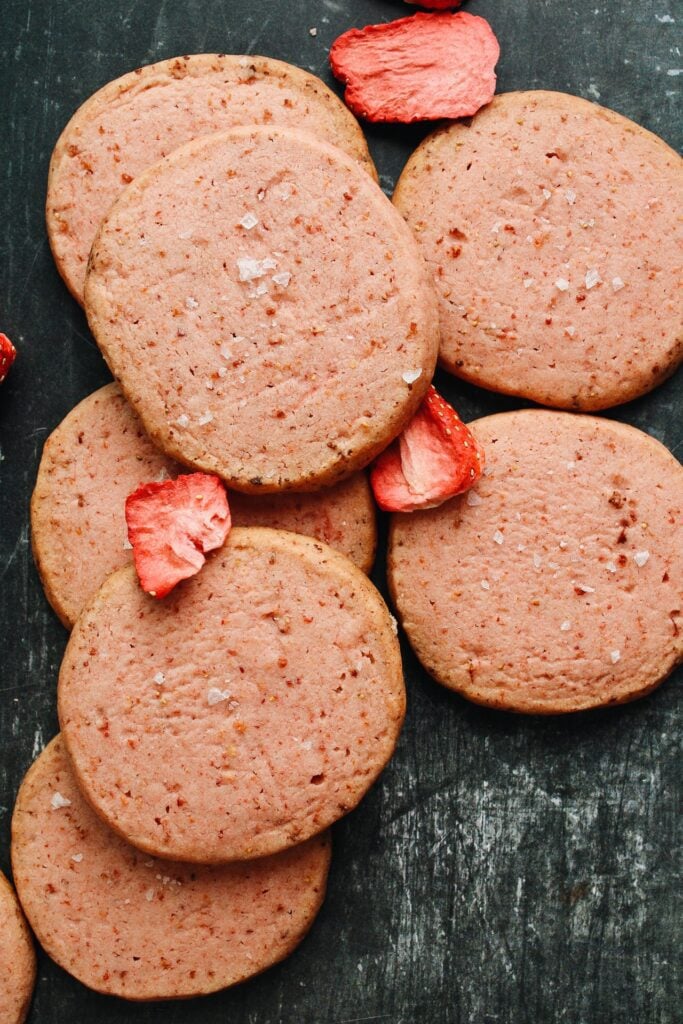 Strawberry Shortbread Cookies are my way of looking forward to spring! I know it's only January but honestly I can't wait for longer days and slightly warmer weather. And of course, fresh springy produce. These shortbread cookies are made utilizing a basic shortbread recipe (just flour, sugar, butter and salt). But, with delicious strawberry dust added in! What's strawberry dust? It's made with freeze-dried strawberries, just pop them in the blender and voila! Strawberry dust. It adds real strawberry flavor and turns the cookies a pretty pink hue.
Ingredients for strawberry shortbread cookies
Salted butter
Powdered sugar
Vanilla
Freeze-dried strawberries (affiliate link)
All-purpose flour
I also like to sprinkle a little sea salt (affiliate link) on top of the finished cookies, it just adds the perfect little touch of salt and crunch to almost all cookies in my opinion! But it's totally optional.
What are freeze-dried strawberries?
If you aren't familiar with freeze-dried strawberries, they are a great way to add a pop of fruity freshness to cereal, granola, yogurt and baking recipes without needing fresh strawberries. They are also just a yummy snack all on their own! Freeze-dried strawberries have undergone a special drying process to remove moisture. You can read more about freeze-dried fruit here. The result is a crunchy, almost melt-in-your-mouth sort of texture.
Where to buy freeze-dried strawberries
I usually get mine at Trader Joe's, but you can also find them at Target or on Amazon (affiliate link).
Is it better to use powdered sugar or granulated sugar for shortbread cookies?
It really depends on the type of shortbread you want! Powdered sugar will give you a lighter, more crisp cookie, while granulated sugar will be more dense. You can even use brown sugar in shortbread cookies, but this will result in a softer cookie. This recipe calls for powdered sugar, but sometimes I use granulated or brown.
How to make strawberry shortbread cookies
Making strawberry shortbread cookies is just as easy as making regular ol' shortbread but let's go through each step!
STEP ONE: Cream butter, sugar and strawberry dust
Make the strawberry dust. Just place the freeze-dried strawberries in the blender and pulse until you have a relatively fine powder. Then use an electric mixer (affiliate link) to beat softened butter, sugar and strawberry dust until creamy.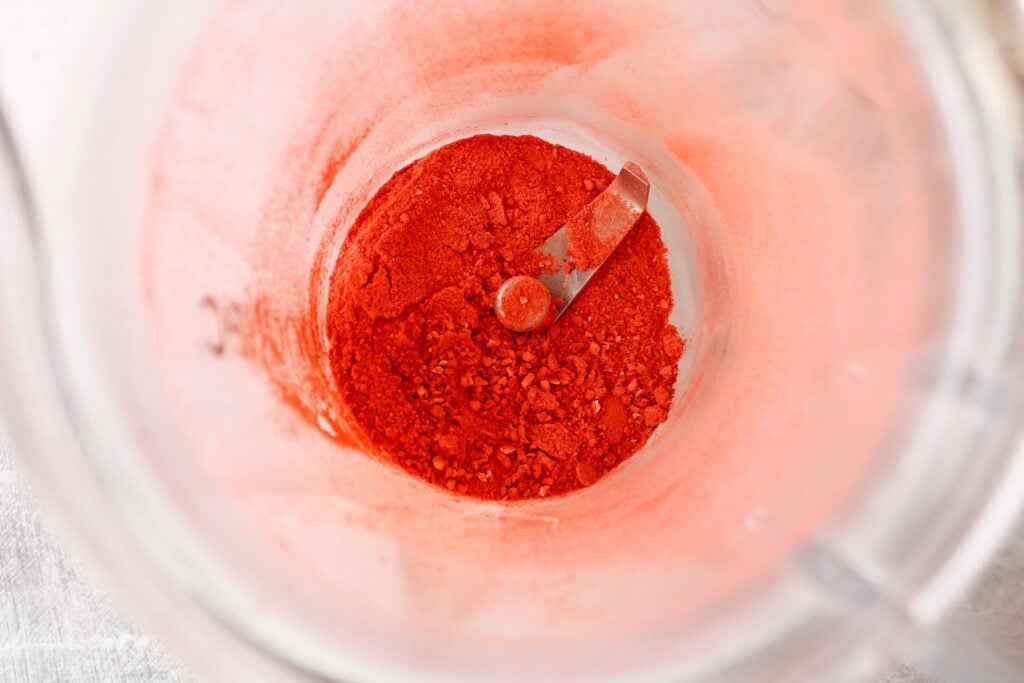 STEP TWO: Add dry ingredients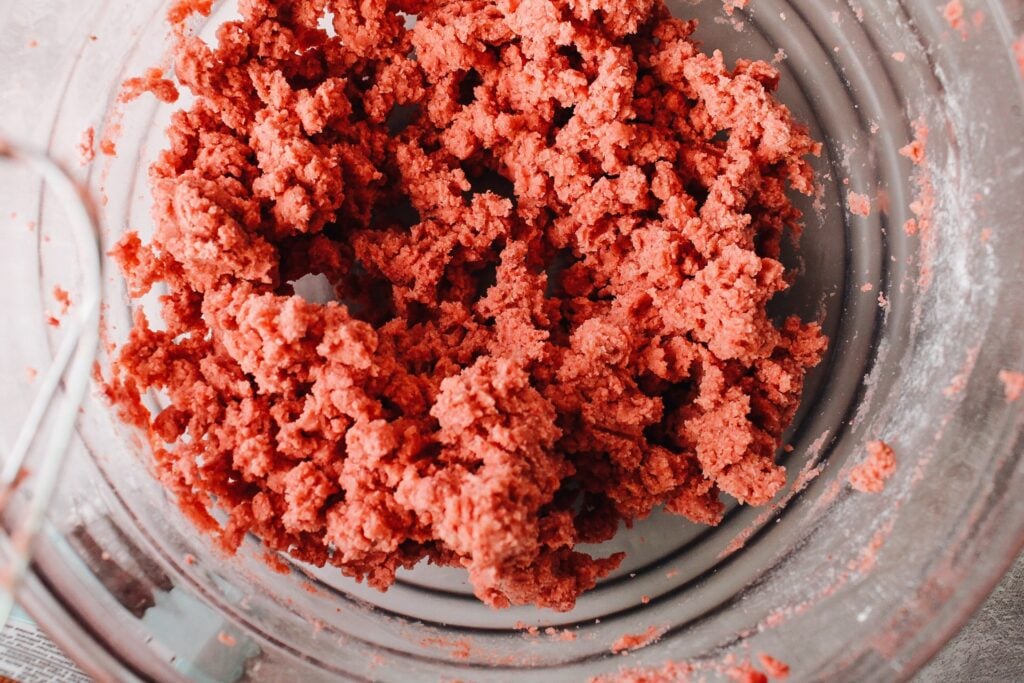 Add the flour and continue to beat with your electric mixer (affiliate link) until a dough begins to form.
STEP THREE: Shape the dough into a log and chill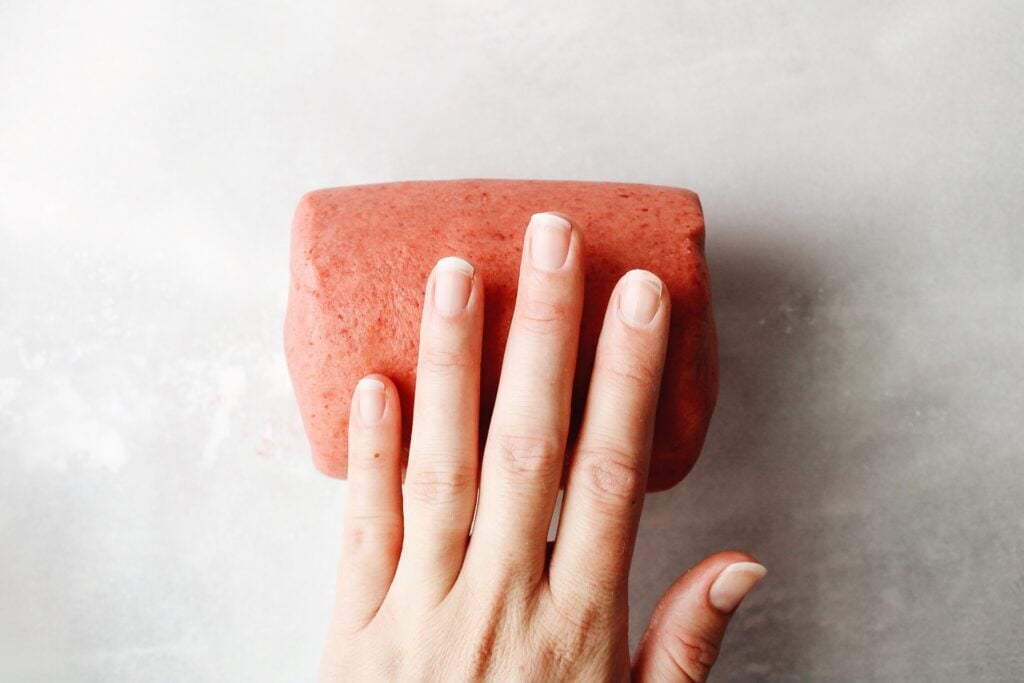 Press the dough together to form a ball, then shape into a log about 2 1/2 inches in diameter and 6-7 inches long. Refrigerate for 1 hour.
STEP FOUR: Slice and bake
Slice the log about 1/2 inch per slice and arrange cookies on a baking sheet. You can gently roll each cookie in between your hands to round out the edges.
Bake cookies at 350F for about 15 minutes, the edges should be slightly golden.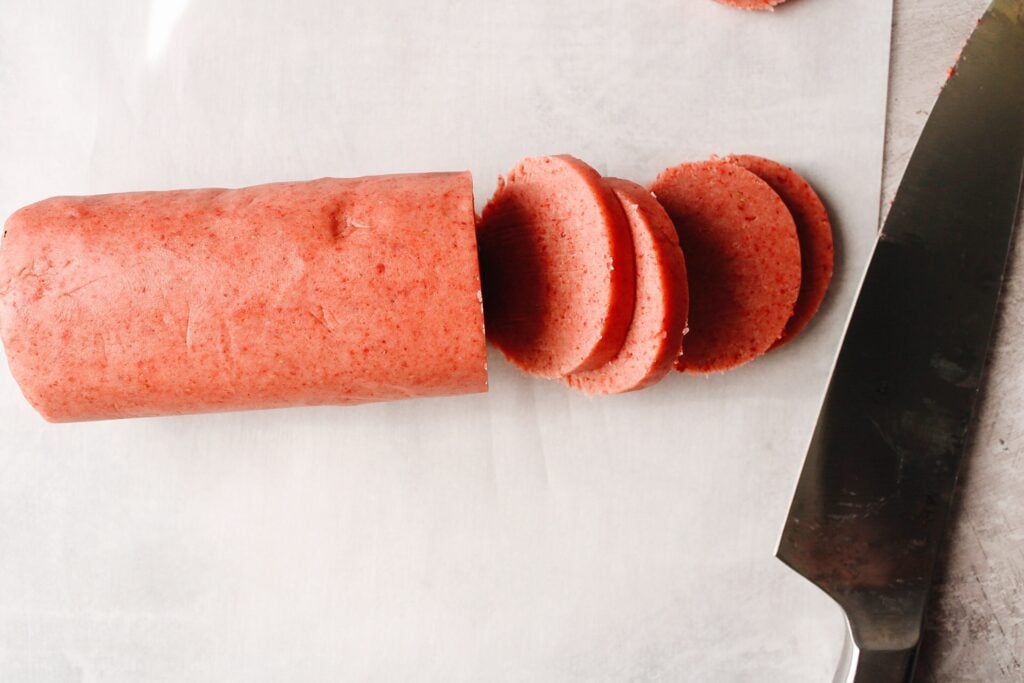 STEP FIVE: Sprinkle with sea salt & enjoy!
What the header said! Like I mentioned earlier, sprinkling with sea salt is optional–do what suits your tastes!
What's the difference between shortbread cookies and sugar cookies?
While somewhat similar in appearance, shortbread cookies and sugar cookies are different. Shortbread cookies are made without eggs and are not super sweet. They are also typically more of a crisp cookie. Sugar cookies are almost always made with egg and are usually much sweeter and a little softer than a shortbread cookie. Both cookie doughs can be used with cookie cutters to create different shaped cookies.
More shortbread recipes
Earl Grey Shortbread Cookies with Vanilla Bean Glaze
Matcha Shortbread Cookies with Ruby Chocolate Drizzle
Print
Strawberry Shortbread Cookies
These strawberry shortbread cookies are such an easy way to breathe life into basic shortbread, which is delicious of course, but sometimes you just need a little something more! Freeze-dried strawberries make it super easy to make these cookies burst with fresh strawberry flavor.
Author:
Prep Time:

20 minutes

Cook Time:

15 minutes

Total Time:

35 minutes

Yield:

12

cookies

1

x
Category:

Dessert

Cuisine:

American, English
Ingredients
1 cup

salted butter (softened *see notes)

1/2 cup

powdered sugar

1 1/2 cup

freeze-dried strawberries (measured, then blended)

1/2 tsp

vanilla

2 cup

all-purpose flour
Instructions
Pulse the freeze-dried strawberries in a blender and pulse until a powder is achieved.

In a mixing bowl, combine butter, powdered sugar, vanilla and strawberry powder using an electric mixer on medium speed. Beat until combined, scraping down the edges of the bowl as necessary.

Add the flour and continue to beat (start out on low and gradually increase to medium) until a dough begins to form.

Shape the dough into a log and wrap with plastic wrap. Log should be about 2 inches in diameter and about 6-6 inches long. Refrigerate for at least 1 hour.

Preheat oven to 350F.
Slice log into slices about 1/2 inch thick. Arrange cookies on a parchment-lined baking sheet. They will not spread too much, but still leave at least an inch in between each cookie.

Bake for about 15 minutes, until the edges start to turn slightly golden.
Allow cookies to cool on the baking sheet for 5-10 minutes before transferring to a wire cooling rack.
Sprinkle with sea salt. You can of course eat these warm, but I recommend allowing them to cool fully before enjoying.
Notes
*Butter should be soft but not so soft that it completely gives when you press on it. It's better if it still has a bit of firmness to it. Otherwise, the dough will be very wet. It should still hold together but it's not as easy to work with. 
Keywords: strawberry shortbread cookies