Make your next quiche crust with tater tots! It's a ridiculously easy and delicious way to up your breakfast/brunch game.
You heard it right: tater tot quiche. It's as good as it sounds and also happens to be very easy. My mom has made quiche this way for as long as I can remember. Or maybe she just started doing it after my parents became obsessed with Napoleon Dynamite. Not totally sure. But I just googled tater tot quiche while holding my breath for fear that I would see that it's already been done before and it has. By Tasty of all the entities. Wah wah wah. Oh well, here's my recipe anyways!
HOW TO MAKE TATER TOT QUICHE
To make tater tot quiche crust simply line your pie dish with tater tots. You shouldn't need to grease the dish, tater tots already have oil on them and I've never had issues with them sticking.
After you've lined the pan, bake for fifteen minutes at 425 degrees. Now is a good time to prepare your fillings— sauté veggies, cut sausage, chop herbs, etc.
As soon as fifteen minutes is up, get to mashing those tots! Use the back of a fork to press the tater tots into the bottom and edges of the pan to form an even layer for the crust.
Perfecto! From here, things go pretty much as any other quiche making experience. Whisk your eggs, add your mix-ins and bake till set.
Voila!
QUICHE FILLINGS
Coming up with filling combos is fun! My mom usually does a broccoli cheddar combo which is very tasty but my husband can't eat dairy so I came up with a cheese-less combo here. This recipe includes: frozen spinach, onion, sausage and fresh herbs! It was delicious. But there's so many other things you could add in: sundried tomatoes, zucchini, feta, peppers, green chiles, broccoli, cheddar, jack, mozzarella, goat cheese, etc.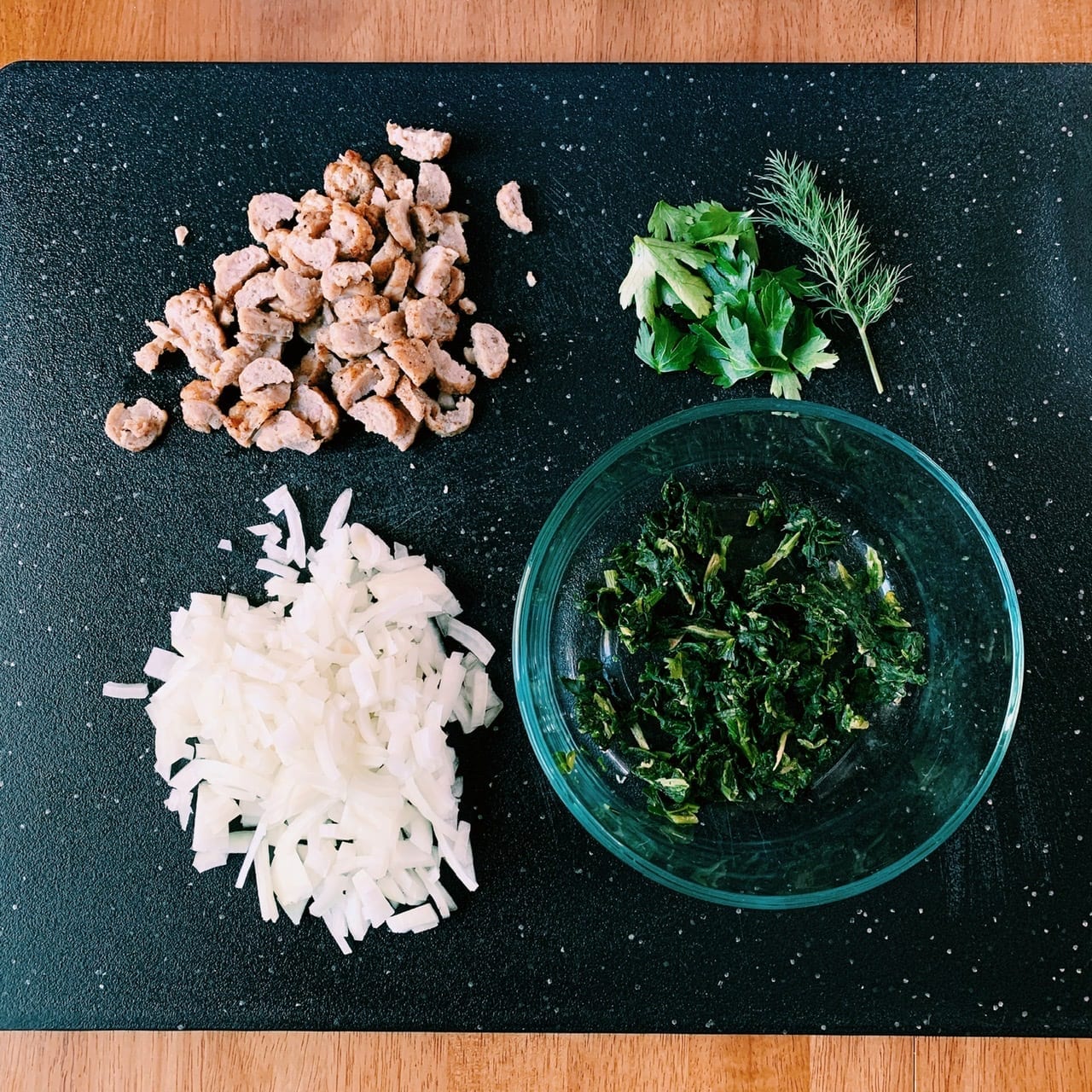 Print Recipe
Easy Tater Tot Quiche
A quiche wherein tater tots make up the crust! Yes, it's delicious! This recipe includes onions, spinach, sausage and fresh herbs but the possibilities are endless.
Ingredients
40

tater tots (enough to evenly line the bottom of your quiche pan)

5

eggs

3

pre-cooked sausage links

3/4

cup

frozen spinach (measure frozen)

1/4

large white onion

chopped

1/2

tsp

fresh dill

chopped

1

tbsp

fresh parsley

chopped
Instructions
Line pie pan with tater tots and bake for 15 minutes.

While the tater tots bake, sauté the onion until translucent. Microwave spinach for 1 minute to thaw, wrap in a paper towel and squeeze to remove liquid. Chop the sausage into bite size pieces.

Whisk the eggs, then add quiche fillings to egg mixture and stir to combine.

Remove tots from the oven and flatten them into a crust using the back of a fork. Reduce oven temp to 325.

Pour egg mixture into hot crust and bake at 325 for 25 minutes.