A copycat Trader Joe's Everyday Seasoning Blend you can use everyday on literally everything (except maybe ice cream)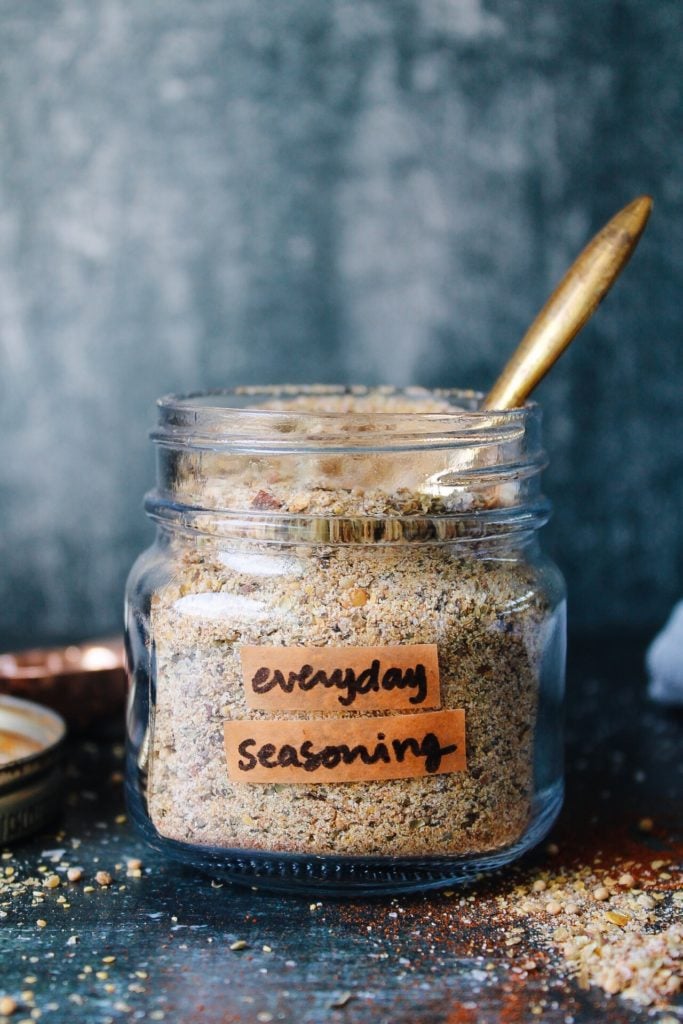 This copycat Trader Joe's Everyday Seasoning Blend is so good, you will probably want to double or triple the recipe! So I LOVE the everyday seasoning blend from Trader Joe's. It's something I used to always have on hand but there is a note on the bottle not to grind over steaming pots, but I would always end up doing that. I couldn't help it! And so it would always end up getting clogged and I could never get the last bit out. This bothered me so I set out to make my own version of their everyday seasoning blend and here we are. Let's make it!
Ingredients for Trader Joe's Everyday Seasoning
Salt
Pepper
Garlic powder
Paprika
Oregano
Mustard seed
Crushed red pepper flakes
Ground coriander
And for our visual learners:
As you might expect from something called everyday seasoning, the ingredients are pretty basic. You might even have most if not all of these spices already in your cupboard.
How to make trader joes everyday seasoning blend
Umm, put all the spices in a jar and shake. It feels weird not to have more to say but its just that easy.
But a note on grinding spices
You will most likely need to grind the mustard seed. Mustard seed is different than dry or powdered mustard so beware. You can either use a spice grinder or a mortar and pestle to grind it. The rest of the spices are easy to find in an already ground state, enabling you to make this in a flash!
The kind you buy at Trader Joe's has mostly whole spices, which is why it comes in a grinder. Feel free to use whole versions of these spices wherever possible and grind to your liking. I love the ease of just dumping (most) all of the spices into a jar.
Where to Use it
You can literally use this seasoning blend EVERYDAY on EVERYTHING. Some of my favorite uses include:
Roasted or grilled veggies
Chicken
Fish (I especially love it on salmon with a tiny drizzle of honey)
Hash browns
Homemade croutons
Homemade pizza crust
This would also make a nice homemade gift for the foodies in your life! Just buy some small glass jars and triple or quadruple the recipe depending on how much you need.
Tried this recipe?
If you try making this everyday seasoning blend, let me know! Comment, rate and/or leave a question below. You can also find me on instagram @thefigjar. Enjoy!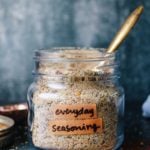 Print Recipe
Trader Joe's Everyday Seasoning Blend (copycat recipe)
My best approximation of the Trader Joe's Everyday Seasoning Blend! You can use this on so many different dishes. Hash browns, roasted veggies, fish, chicken, even in homemade pizza crust! A little jar of this also makes a great homemade gift for the foodies in your life!
Ingredients
3

tbsp

garlic powder

1

tbsp

mustard seed

ground

1

tbsp

black pepper

1

tbsp

salt

1

tsp

ground coriander

1

tsp

paprika

1 1/2

tsp

dried oregano

1/2

tsp

crushed red pepper
Instructions
Grind any whole spices you are using with a mortar & pestle or spice grinder. Combine all spices in a jar and shake!
Notes
Notes
Use the measurements provided for spices in their 'whole' state, then grind. For example, measure 1 tbsp mustard seed, then grind. You will end up with about 1 1/2 tbsp after you grind and that is what you want.
Red pepper flakes – if you are sensitive to spice, you can either omit the pepper flask or reduce to just a small pinch. If you like spice, feel free to increase it!