My honest AeroGarden Review! I've had an Aerogarden in my kitchen for about two years and there's so many reasons I love it and of course I few things I don't love. Let's talk about all of the pros and cons, shall we?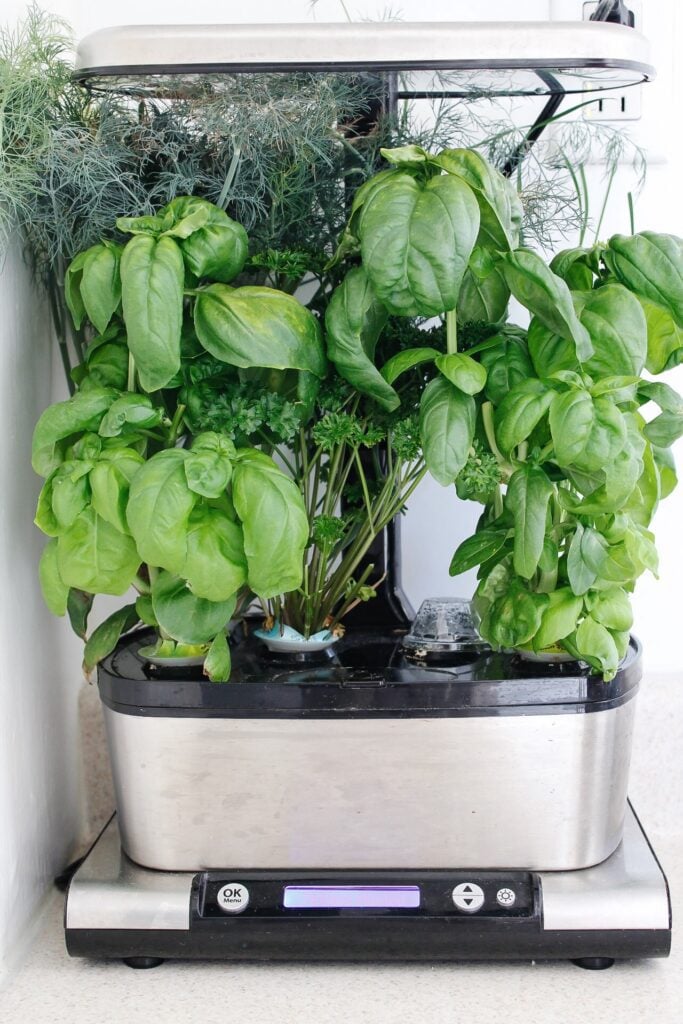 Disclaimer: this post may contain affiliate links, which means if you decide to purchase any of the items linked in this post, I should earn a small commission. This creates no additional cost to you and helps support the work that goes into running The Fig Jar. Thank you! -Becky
What is an AeroGarden?
Hydroponic indoor garden growing system
First things first, let's talk about what an AeroGarden (affiliate link) is. In short, it's a hydroponic indoor growing system for herbs, some flowers, and a few vegetables. We have mainly used it to grow herbs, but we've also had success with tomatoes and jalapeño peppers.
If you're not familiar, check out the picture below for an idea of what it looks like. Although AeroGardens do come in several different varieties (so the looks can vary a little) this should give you an idea!
Basically it's an easy, essentially fool-proof way to grow an herb garden. It produces a flourishing herb garden right in your home with minimal effort required on your part. And when I say minimal, I mean really minimal. You pretty much just open the box, pop in the seed pods (affiliate link), fill with water and plug it in.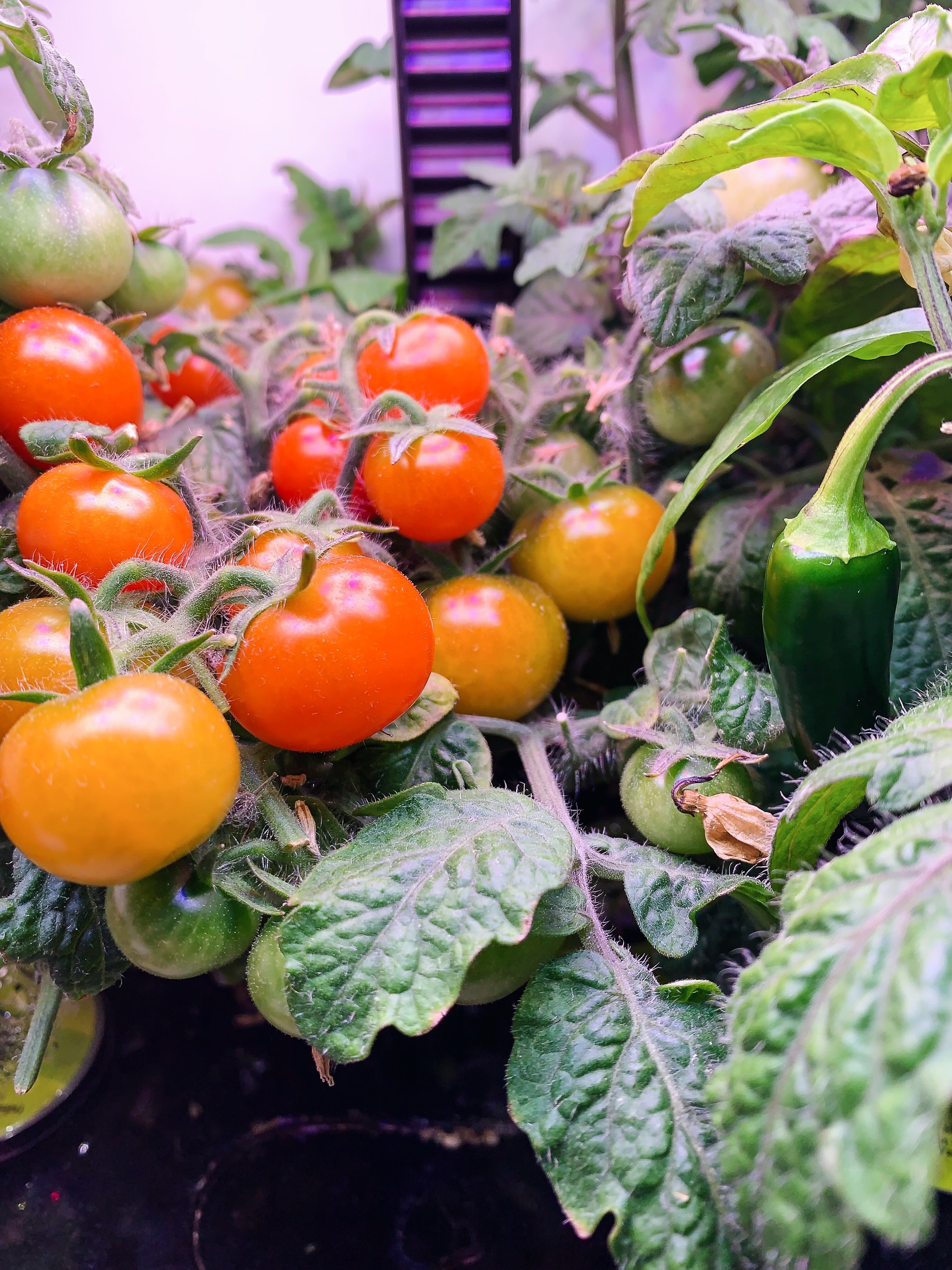 Is the AeroGarden worth it?
If you like the idea of growing your own fresh herbs at home, you might be wondering if the Aerogarden is worth the money. I'm going to go through the pros of owning an Aerogarden and a few of the cons. Let's get to it!
The pros
And there's probably more than six, but these are the main reasons I love it, so here we go! If you wondering if you should buy an AeroGarden for you or for someone else, this section is a must read!
1: Foolproof way to have a flourishing herb garden at home
If you follow the basic instructions on assembly, insert the pods, maintain the water level and add the plant food on schedule, you will have success, generally. I say generally because I have had certain herbs not work for me, more on that below. Herbs I consider truly foolproof are: Genovese Basil, Thai Basil, Mint, Dill, Chives. These have grown for me without fail and not just grown, but flourished like crazy. You don't need any gardening knowledge to grow a successful herb garden!
You can also grow certain vegetables like tomatoes, lettuce and jalapeños. I can't speak to lettuce as I haven't tried it yet, but tomatoes and jalapeños worked great for us.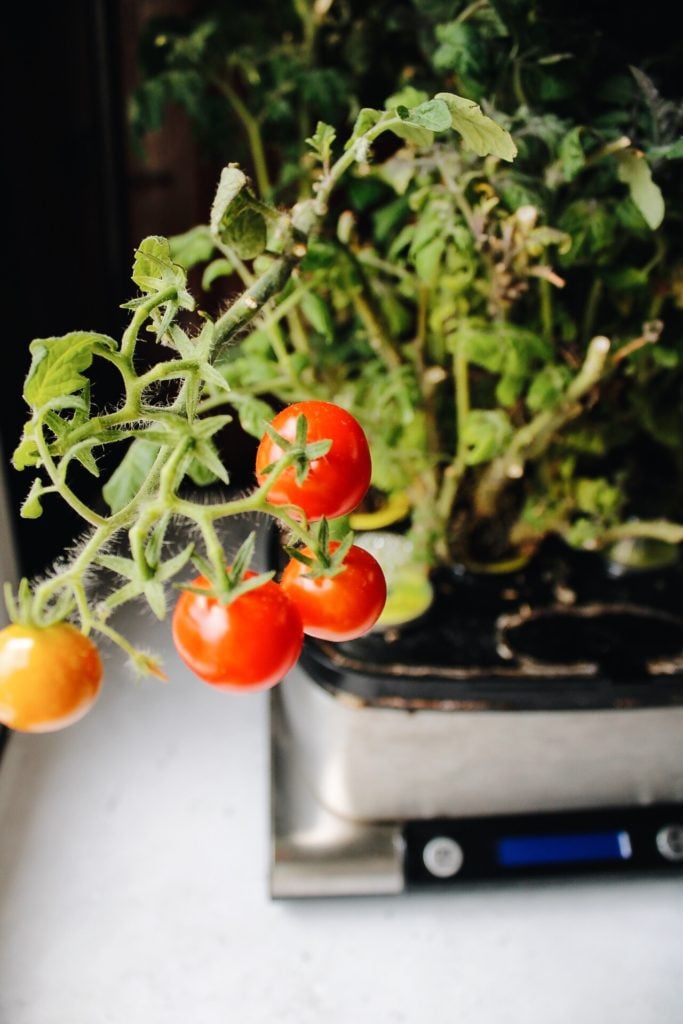 2: Grows quickly
Instant gratification anyone? Okay so it's not instant but growth does happen very quickly. At the end of the first week you will start to see sprouts coming up for certain herbs. Basil is always the first one for me! Some herbs take a little bit longer and there is a week range on the seed pods for so you can know when to expect some growth. After just a few weeks you will be able to start harvesting some of the herbs for use.
Here's where we were at after just 16 days of our last crop: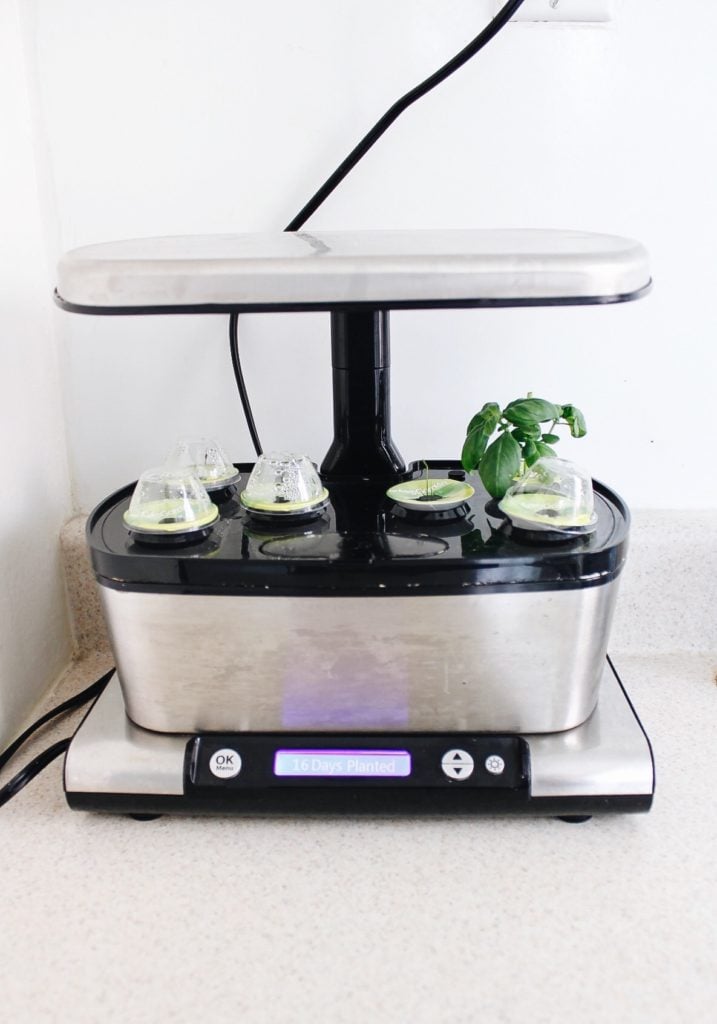 3: Compact
The model I have is about 10.5 x 7.5 inches at the base and is about 15 inches tall with the light fully extended. And in this small space, I currently have more dill, basil, mint and chives than I can use. The AeroGarden is great if you have limited outdoor space or live in a climate that makes growing fresh herbs outside difficult.
4: Have fresh herbs on hand
Perhaps this is the most obvious reason you might want to buy an AeroGarden and likely why you are here reading this post! So I don't know if I need to tell you how nice it is to have fresh herbs growing in your kitchen. Use them in pesto, top of all sorts of dishes for an extra pop of color and flavor, make an extra delicious vinaigrette, make herb salt!
5: Share with friends, make homemade gifts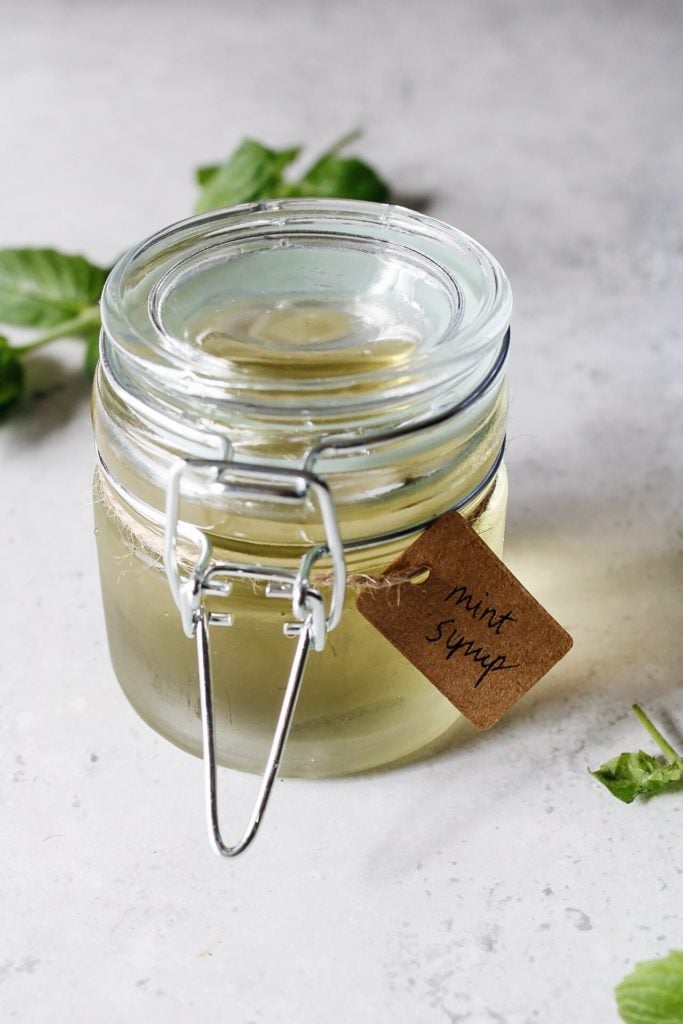 Another fun aspect of having a flourishing herb garden– You can share with friends, family and neighbors. We've brought herbs over to our neighbors several times and I can't tell you how appreciative they've been. It's a really simple way to brighten someones day!
You can also make some fun (and useful!) homemade gifts with all the excess herbs. I made the cute little jars (affiliate link) of herb salt above to give as Christmas gifts this year. Other ideas include a mint simple syrup or a little herb bouquet! You can also dry them yourself, but I haven't tried that yet, here are some instructions I found online that sound promising.
6: Bring life into your kitchen and recipes
There's something just so nice about having living, breathing plants right in your home, even more so when they are useful plants that you can eat! Like I mentioned above, fresh herbs are such an easy and delicious way to add flavor and visual interest to a dish.
The cons
As with most things, the AeroGarden doesn't come without a few drawbacks. But even though there are some cons, I still highly recommend it if you are wanting to grow your own fresh herbs. Let's talk about some of the problems I've experienced with the AeroGarden.
Lack of success with certain herbs/flowers
While some herbs and plants have been wildly successful for me, some have started to grow, struggled then died or never really grew at all. Herbs I've struggle with: parsley, thyme, lavender and chamomile.
I currently have a lavender pod in and it is still growing but no lavender yet. I am still holding on to hope that it is going to make it, but it's been a struggle. Update: Lavender didn't ever grow for me 🙁
Chamomile sprouted but never made it past the top of the seed pod opening.
Parsley sprouted and actually yielded a couple of leaves, then fizzled out. This happened on my first go-round and my theory is that I didn't prune the other herbs that were ferociously growing and just kept raising the light and maybe the parsley needed more light? I'm not sure but I was pretty disappointed since parsley is probably the herb I lean on most in the kitchen. Update: I have since had success with both curly and Italian flat leaf parsley.
Thyme was also on my first go and had a similar life span to parsley. I wonder if the issue is the same as the parsley. I plan to try it again eventually and will update this post when I do.
Gets dirty quickly
Maybe dirty isn't the right word, but I've had difficulty with hard water calcium buildup on around the top edges and especially around the opening for water. If you are diligent, you can keep it relatively clean though. I'm just a little lazy and often don't deal with the build up until I'm ready to start a new "crop". I share some instructions below on how I clean it.
How long do Aerogarden plants last?
Herbs outgrow the area eventually
You might be wondering how long you can expect your Aerogarden plants to last. Well, some herbs do so well, (hello mint and dill!) that they essentially outgrow the Aerogarden which can be disappointing but usually by the time it reaches that point, I'm feeling ready to start over with a new crop and try some new herbs or veggies. The dill gets very tall and the bottom stalk just gets thicker and taller and the taller that gets, the higher the fronds are and as the start hitting the light and and even growing beyond it and I just don't have the room to let it grow that tall, which equals less available dill. Generally, the garden will last from 3-6 months.
Noise
This really isn't that big of a deal but I just want you to know it's not silent. Most of the time it is, but it periodically filters the water and makes a gentle water fountain type of noise. It was some what startling at first (just because it was an unfamiliar noise, not because its loud) but I hardly notice it anymore.
Light
The light is very very bright! This isn't a huge issue either since it is off most of the night and during the day I don't notice it, but we actually turn it off a little earlier than it would naturally turn off on its own because of the lights. We live in a very small apartment and the light filters into our bedroom from the kitchen. Perhaps another reason certain herbs didn't do so well for me?
Expensive
So AeroGardens are a tad pricey. They run anywhere from $95.00 – $250.00. But once you make that leap, you have the base and can buy the seed pods for $20 or less.
How to clean and maintain
Cleaning your Aerogarden
So I mentioned one of the cons is the base can get dirty rather quickly. And by dirty I mean hard water build up around the edges and just general dust around the base that can be harder to get to as the garden starts to flourish.
Here's what I do: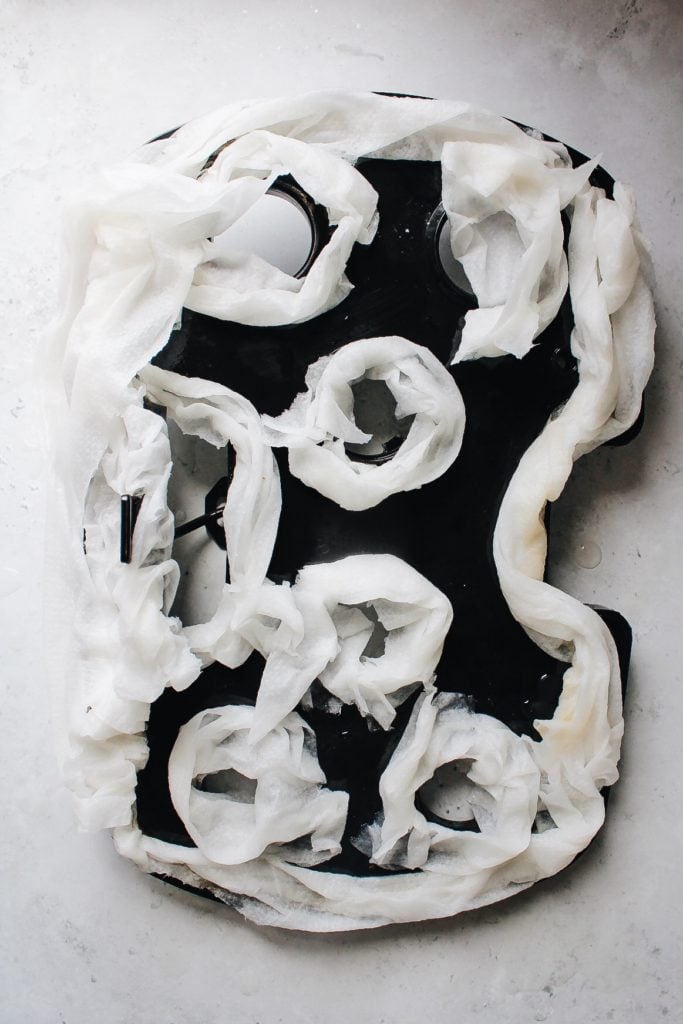 Soak paper towels in vinegar and press them onto the areas with buildup. Allow this to sit for about 30 minutes and use a scratch pad to scrub off the build up.
The photo above is from when I started a new crop. You won't be able to remove the lid like this when you have a garden growing, but you can still use this method.
If you are cleaning to start a new garden you will also need to remove all the roots from the base and wipe out the inside of the base.
Maintenance
Be sure to trim herbs as they grow. Mint can start to take over if you don't trim it regularly. You will also want to make sure that you remove dead leaves regularly.
Periodically check the water level and replenish when it gets below the fill line.
Pay attention to the display as it will notify you when you need to add the plant food, which is every two weeks.
Setting up the aerogarden
So you decided to buy an AeroGarden and now you need to set it up! Let's talk. Setting up your garden is a very simple process.
Decide where to set up
We have ours on the kitchen counter next to the sink. Just find a place where the cord can reach an outlet because you will need to plug it in.
Select your herbs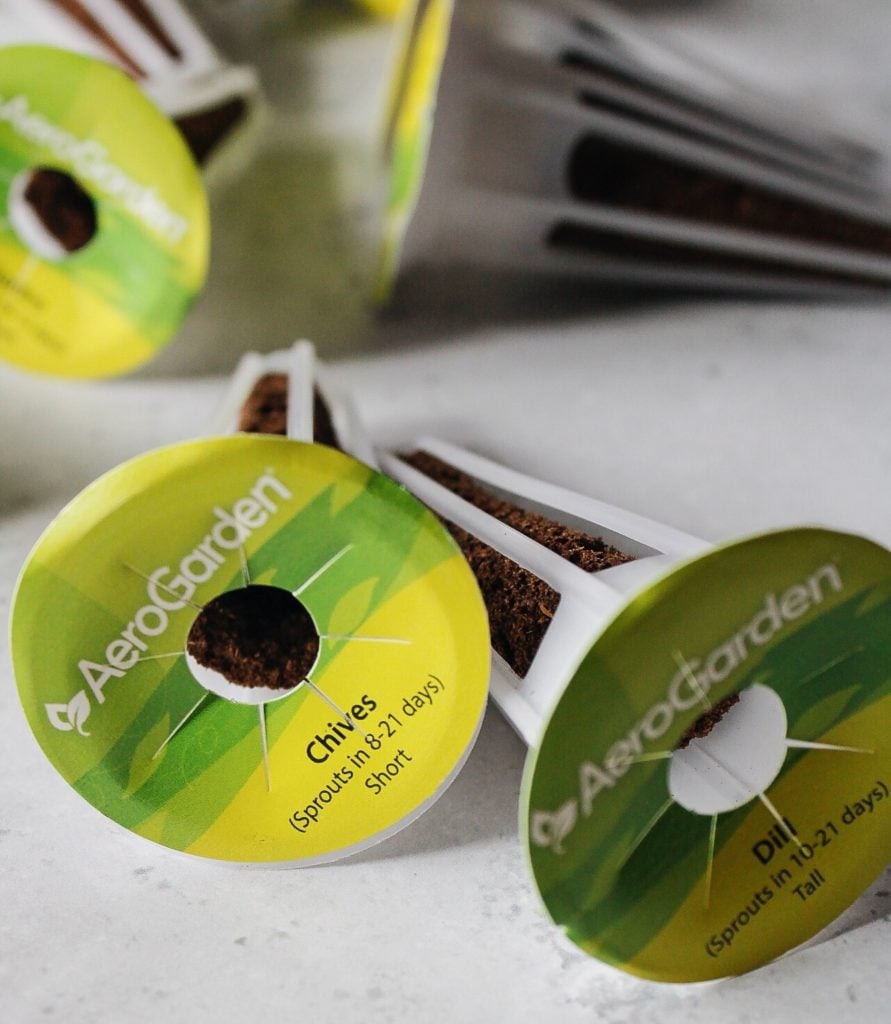 Select the herbs you would like to have in your garden. As I mentioned earlier, dill mint and the basils have done really well for me. Depending on how big your AeroGarden is, you might have extra pods, you can either double up or try giving some other herbs a chance.
Fill the base with water
Water and the light hood are essential for your garden's success! Fill the base with water up the fill line.
Insert in the Aerogarden pods
Pop the seed pods into your chosen spots. I recommend putting dill on an outside pod opening as it can get very tall. Mint is also probably better to put on an outside opening as it can get pretty wild and start winding its way through the entire garden if you let it. I think putting it on the outside will make for easier pruning and keeping the garden under control. When you first start the garden, you will need to place the little plastic lids over the pod opening until it begins to sprout.
Add plant food
Most AeroGarden models should come with at least one bottle of plant food. You will need to add two capfuls of this every two weeks. But you don't have to worry about tracking this, the display will tell you when it's time to add more food.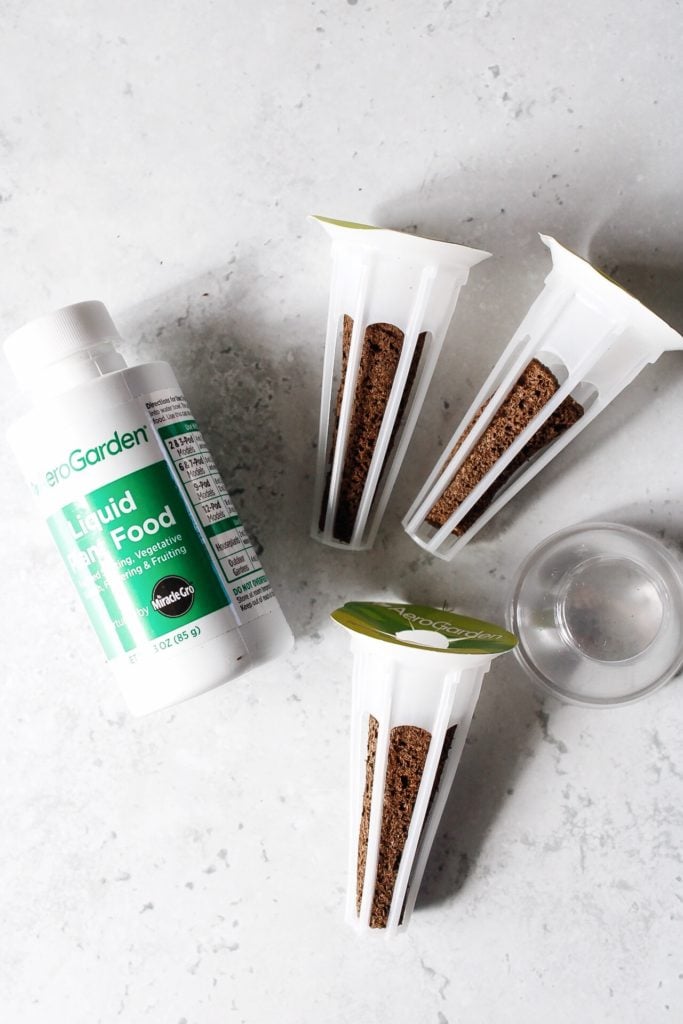 Watch it grow!
Once you've filled the base with water, inserted seed pods (capped them off) and added plant food, you can pretty much just plug in the garden and sit back and watch it grow.
You will need to add food every two weeks and will also need to raise the light as the plants grow taller.
Aerogarden Review conclusions
Overall, I love my AeroGarden (affiliate link). I love having plenty of fresh herbs always available. It's easy to grow and maintain. While there are a few things that have disappointed me or been a challenge I still think it's well worth the investment if you are wanting your own herb garden. There's so many ways you can put fresh herbs to use! And you're not limited to fresh herbs. You can grow tomatoes, jalapeños, lettuce and flowers too!